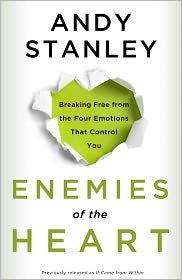 I'm about half way through (maybe a little more) a book titled 'Enemies of the Heart' by Andy Stanley. God is working with me so mightily through this book. It talks about four enemies of the heart.. anger, guilt, greed, and jealousy. When I first started reading it I thought I might have a problem with one or two of those four things... surely not greed. Can a true follower of Jesus be greedy? Well I have come to learn that yes, I have a problem with all four of these things. Thank God He has shown me this.
As I have been going through this book and answering the questions in the back of the book (there are questions that go with each chapter) I have been broken down. How could I so mindlessly have such an obvious problem with these things and never noticed?
I will let you know what the outcome is when I finish this book, but I would say if you are struggling (maybe you don't even know you are) with any of these things (anger, guilt, greed, or jealousy) you should find this book and read it. Andy Stanley is a wonderful author who is very easy to read while bringing up very hard questions. You will laugh and most likely do some deep thinking while reading this book, but its all for the better of us and the glory of God. God bless you dear brothers and sisters! :)
Note: I received this book for free from WaterBrook Multnomah Publishers for reviewing purposes.