I didn't think I'd like it.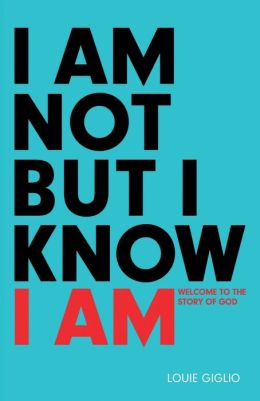 At first, I thought I'd totally enjoy a book by Louie Giglio.
But sometimes he gives information that, while astounding, I can't even begin to grasp it and being the person I am, that annoys me.
But I enjoyed it.
In fact, I was reminded of a wonderful truth- my name is: i am not.
Little i, little a, little n. I am little.
Louie speaks this truth in every single chapter of his book. But he doesn't leave us there. No, he talks about His name; God's name... I AM. And my mind is blown by some of the truth and God comforts my heart with it.
The chapters aren't super long (and I think most people like that), but they are filled with funny stories, deep thoughts, and beautiful truths.
It's a pretty easy read. I can't really think of any complaints or things I didn't like about this book.
Not sure if it would go into my top 5 or even my top 10, but it's a wonderful book that is great for all age groups.
If you need a reminder (and we all need them) about how small you are and why you're really here on this earth then I would say this is a good book to remind you of that. If you're a teenager or you're involved in youth ministry, I think this would be a really good book to have your youth group go through together.
If you get this book, I hope you enjoy it and find comfort in knowing that the I AM loves you so much.
*Note: This book was given to me for free for reviewing purposes.