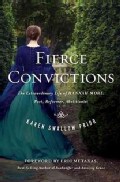 I must say that I had a hard time getting through this book, and didn't finish it. :/ I tried, but for some reason I could not stay interested.
Fierce Convictions by Karen Swallow Prior is a book that tells the story of Hannah More - a woman who was a reformer, abolitionist, and a poet. She came from a family of quite a few women, which could be why she was such a passionate, unordinary one. She had good people pouring into her and good came out, though not at first.
This book is written very historically and factually based. It's not told from a story-type perspective (I've read a few biographies that were and tend to enjoy them more), rather, the author who happens to be a teacher, I think wrote it from a more teaching based mindset which means this would be a great book for home schooled children or bold teachers who want to include more in their classes.
This book wasn't my cup of tea, but it may very well be yours. If you enjoy exciting stories, I think you'll like this one. If you like history, you might enjoy it. Like I said, I think this would be great to use for teaching purposes because it is filled with so many facts and discussion starters.
Note: I received a free copy of this book for reviewing purposes.