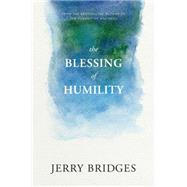 Jerry Bridges has been one of my favorite authors for a long time. I enjoy reading any book that is backed up with Scripture and is not preachy about how to live your life. I don't feel condemned or judged, I feel convicted and encourage when I read his books.
The Blessing of Humility
is no different. He fills this book with Scripture and gently pushes all of us (including himself) to the cross of Christ and His help, healing, and humility.
Pride is the downfall in our lives far too often. The essence of why we sin is because pride tells us we know better than God. Well, Bridges, challenges us to stop giving in to those sinful tendencies and to lean upon the Lord. He goes through 8 chapters of brilliant chat leading you through the Beatitudes from Matthew and how they apply to true humility.
I need more humility in my life for sure. How about you?
Note: I received a free copy of this book in exchange for a review.